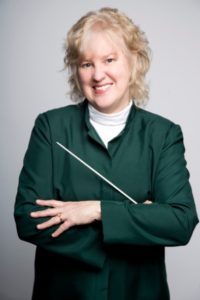 Mary Barnes-Gingrich Appointed Music Director
Following the decision of the band's first Music Director, Dallas Niermeyer to retire from the podium after 16 years, the band began an extensive search process.
Prairie Brass Band President, Clark Niermeyer, is pleased to announce the appointment of their new Music Staff
Mary Barnes-Gingrich has been a member of the Prairie Brass Band for six years, the first five as solo tenor horn and currently as conductor. She is a graduate of Northwestern University with a degree in performance (French horn); for three of her undergraduate years she was a member of the Chicago Civic Orchestra. After graduating she won The Friday Morning Music Club competition in Washington, DC, resulting in a solo performance at the Kennedy Center. While in the Washington, DC area, she was selected as the principal horn with the Northern Virginia Chamber Orchestra.
After returning to the Chicago area, Mary became an active freelance player, performing at the Arie Crown Theater in Chicago for shows that included My Fair Lady (Rex Harrison), Camelot (Richard Burton) and How to Succeed in Business (Sammy Davis Jr.). In addition, she played extra horn and Wagner tuba during Chicago Lyric Opera's four-year Wagner Ring Cycle conducted by Zubin Mehta. Mary plays as an extra with the Chicago Symphony Orchestra and has participated in the orchestra's tours to 12 countries. She also may be heard on CSO recordings with Maestros Solti, Barenboim and Guilini. She is currently a member of the Ars Viva Symphony and the Lake Forest Symphony. An active chamber musician, she plays French horn with The Edens Brass Trio, The Mirror Quartet and the Chicago Horn Consort. Mary is also an award-winning painter and print maker (MBGingrich.com) and shows her work in two galleries in Wisconsin.